Blog
Monday, 23 April 2012 13:11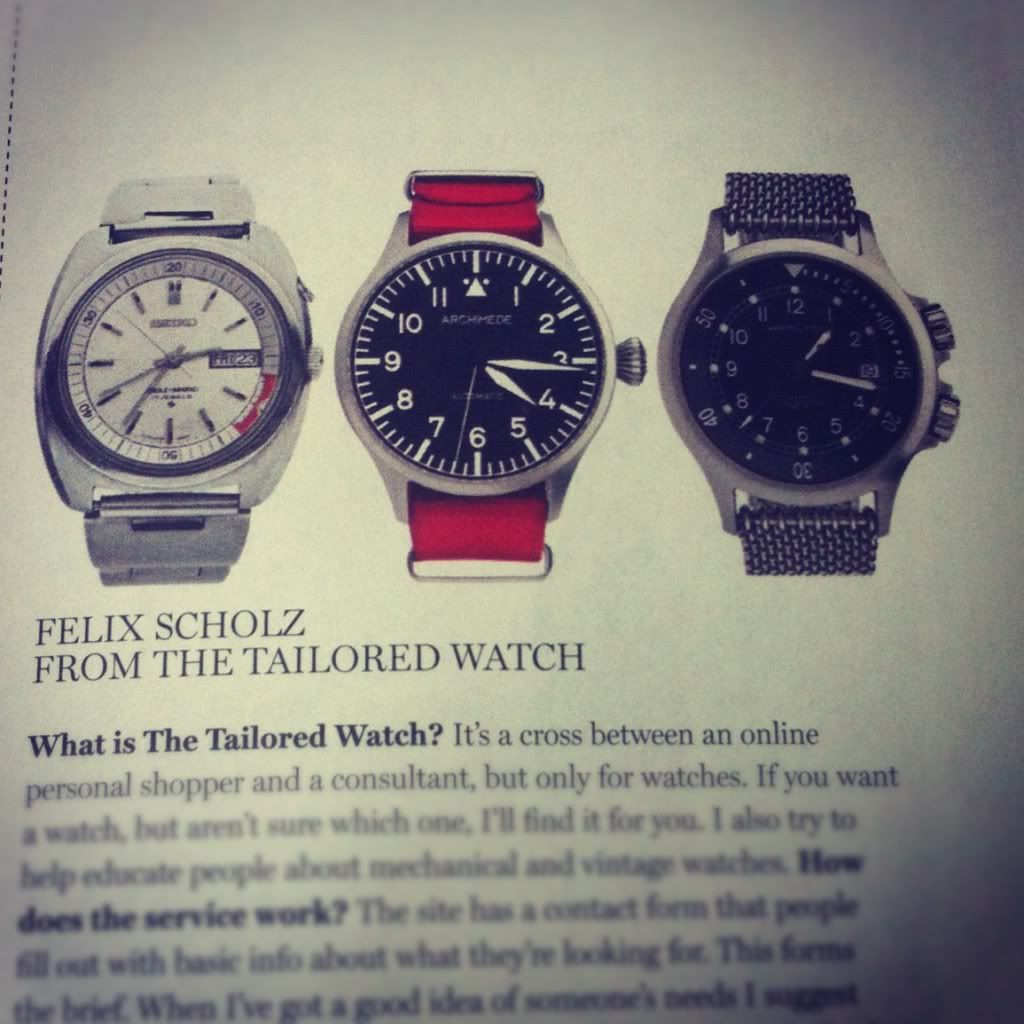 So, I just thought I'd let you know that I'm famous! Well, not really famous, and not really me. In fact, what I actually mean is that I did a quick Q&A for Smith Journal, and some of my watches got a little bit of the 'ol photoshoot treatment. (they've never looked so pretty). I was pretty happy with how I answered the questions, and have got a bit of interest from it. Oh, and my mum was pretty proud.
Monday, 26 March 2012 02:06
Have you ever wondered why luxury watches cost so much? Well wonder no more, as my buddies over at The Sydney Tarts found this quick, but illuminating little clip on the economics of watches. Watch (pun not intended) and learn.
Monday, 12 March 2012 05:54
Usually I'm in the business of buying watches for other people, rather than selling them. But a little while ago I met a good friend of mine in a cafe and she pulled out a bag full of vintage ladies watches, and asked if I'd give her a hand selling them.
How could I say no! (Especially considering the loveliness of the lady and the watches). The 20 odd watches in question dated from the 60s through to the 80s, and there are some excellent pieces in there, and they're overwhelmingly of a reasonable price (mostly around the $100 mark FYI)
You can check them all out on Flickr, but I thought I'd show you a few of my personal favourites…
The Mido Oceanstar.
This watch is a real stunner, a simple automatic watch from (I'd say) the late 1960s, but with a styling that really is timeless. This watch would look good on any wrist. It measures 32mm wide - and would have originally been made as a mens' watch, but with fashion being what it is, most men wouldn't wear this watch these days. Perhaps my favourite features of this watch are the lovely high acrylic crystal and the awesome black dial, which after 50 or so years has gotten some great character, without looking faded or worn.
The Tudor Princess Oysterdate.
Tudor is a wholly owned subsidiary brand of Rolex, and historically Tudor watches have been pretty much carbon copies of their higher profile (and higher price tag) cousins. So much so that older tudors, like this one have a Rolex crown on the case, and on the bracelets. In this cars the whole watch is pretty much identical to a Rolex. The only real differences are the dial saying 'Tudor' and the movement inside. The movement, rather than being one made by Rolex is a more standard Swiss movement, but still a very capable and respectable one. All in all vintage Tudors like this represent a great way to get that vintage Rolex look and feel, but without the crazy premium.
70s Bulova with integrated bracelet.
Bulova is a personal favourite brand of mine, with a rich history I've got a few of them to sell, but this one is, in my opinion, the coolest one. They're mainly famous for their tuning fork Accutron watches, as well as their funky 70s designs. This little watch is a great piece of 70s retro awesomeness, without being dated or ugly.  With it's large cushion case and solid bracelet, this watch has a masculine vibe, but isn't over the top. An ideal vintage watch for everyday wear. Plus, a quality Swiss automatic watch for $120 is nothing to be sneezed at.
Omega Geneve with 'Television' dial.
Another watch from the late 60s, this time from the excellent house of Omega. This watch is from the Geneve collection. It's a lovely watch for a few reasons; the unusual television shaped dial, with the less common black dial, and also the original Omega bracelet. The styling of this watch somehow (like all the best designs) manages to have all the hallmarks of late 60s chic, while at the same time being eminently wearable today. This Omega is in excellent, all original condition, with no aftermarket parts (even the crystal has a tiny etched Omega logo in it).
So there you are, my pick of the ladies vintage watches I'm selling at the moment. Like I said before, check out the flickr gallery with all the watches, and if you're interested in any or would like to ask me any questions at all please email me at felix@thetailoredwatch.com
<< Start < Prev 1 2

3

4 5 6 Next > End >>


Page 3 of 6