Blog
Tuesday, 13 September 2011 00:15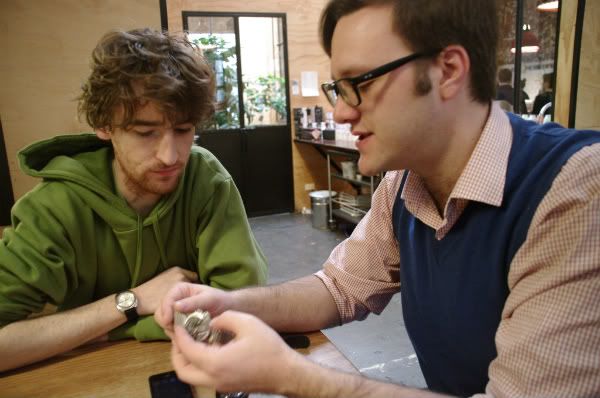 A little while ago I found myself, late at night with the somewhat odd dilemma of having to organise a 'watch photo shoot' within the next 24 hours.
Surprisingly this wasn't as difficult as it could have been, I was catching up with friends the following morning, so I just made sure there were lots of cameras and watches present. It only looked slightly contrived. Why did I need an impromptu photo shoot? Well, because I had the good fortune to get a write up in the Melbourne edition of the hipster newsletter, The Thousands City Guide. And it turns out that while they loved the concept of my business, they needed some pretty pictures to go with it - and I didn't think an accurate description of how I work from home (tracky daks in front of a laptop) would really cut it, hence the watches, cameras and coffee.
Watch photo shoots were not something I really imagined when I was starting The Tailored Watch, but there you go, the photos were a success and I got a great little article in Three Thousand.
Tuesday, 16 August 2011 07:00
You may not realise it, but for the last decade or so the most significant trend in wristwatches has been size.
Don't get me wrong - we've always had big watches. But it hasn't been until recently that we've had so many, and that they've been so popular. In the world of watches this phenomena has a name; the 'big watch trend' - and urban lore tells that one man is largely responsible for pushing this trend mainstream - Sylvester Stallone.
The story goes that Sly was in Italy shooting the film Daylight, and bought a watch made by a little company called Officine Panerai. He liked the watch, bought a bunch for his mates, and the next thing you know anybody who is anybody is wearing a big chunky watch. Fast forward 15 years and even if you don't know the name Panerai, you'll probably recognise the distinctive shape of their watches.
So what Sly did by popularising this little Italian brand amongst a highly visible and elite population (aka Hollywood) had a profound effect on the wristwatch trends and marketing for the decade or so. So that now, in 2011, it is almost unusual to see a mans watch in a regular jewellery store that measures less than 40mm across, whereas 30 or so years ago 35mm would have been the norm.
What does this little history lesson mean for people looking to get a watch today? Basically it means that an 'average' watch size is a fair bit bigger these days than it was 15 years ago, let alone 30 or 40 years ago. I'd say that the average sizer an adult mans wrist watch is somewhere between 36 and 42 mm across. One really important thing to consider about this is that vintage watches, which were made as full sized mens watches often look too small by contemporary standards. I've got a lovely rectangular Elgin watch from the 1930s - it was made for a man and it measures 26mm wide and about 40mm from top to bottom - I don't wear it as it looks far too small for me.
So I guess what I'm trying to say is that size doesn't really matter and as long as you're happy with your watch that is all that matters. But it is important to recognise that watch size, like hemlines, is dictated by fashion and trends and it's an important thing to consider.
Monday, 18 July 2011 06:27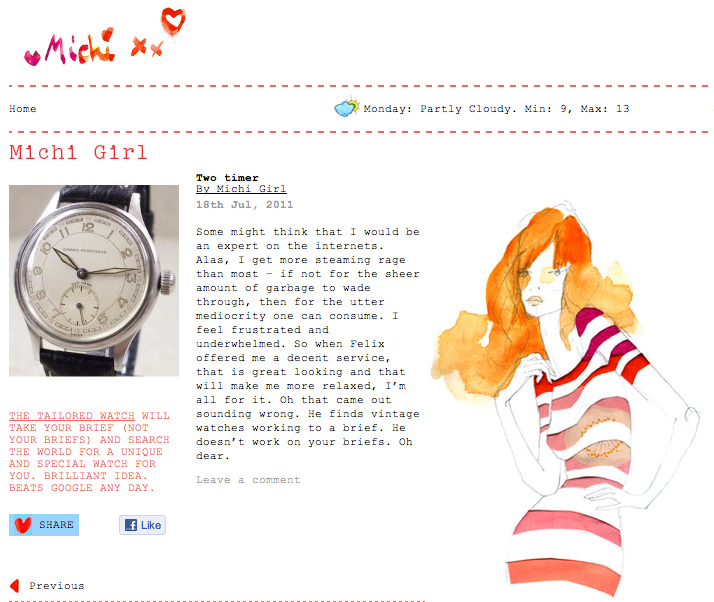 Does the path to international fame and glory start here? I hope so.
The Lovely Michi Girl did a quick write up on me (thanks for the kind, if somewhat
inappropriate, words). So hello any Michi people reading! Lovely of you to stop by.
<< Start < Prev 1 2 3 4

5

6 Next > End >>


Page 5 of 6